How to Develop a Project/Programme for Rural Women


Stage 1: Diagnosis (Obtaining and analysing baseline information)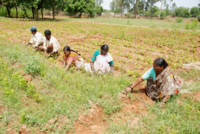 The success of implementing any project rests essentially on the quality of information that is used in planning the project. In other words obtaining and analysing baseline information. There are different types of information that need to be collected. Some of the information may be obtained from respective line departments or the district statistical office. However, to collect the most recent and reliable data, it is best to conduct interviews and focus group discussions with women farmers.
Step 1. Details of the study locations/villages (including natural resource base)
This initial step requires collecting information about the study locations/villages where a new programme or project is to be implemented. Some of the details are as follows:
Types of agro-ecosystems present
Nature of the cropping system including land use patterns
Coverage of animal husbandry
Fisheries and other allied agricultural enterprises present
Information on village livelihood pattern
Step 2. Details of household livelihood profiles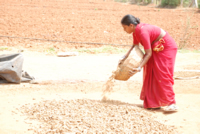 Identifying what livelihoods households are engaged in is the focus of this task. This helps in understanding what households do to earn an income and support their livelihoods. It is important to comprehend the food security situation, which gives a better understanding of what is happening at the household level.


Step 3. Details of women's livelihood profiles
Activities that women are specifically engaged in
Constraints faced by women to undertake the activities,
The type of support required to overcome these constraints.
Step 4. Details of women's aspirations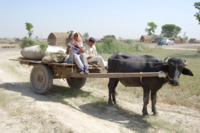 Before designing any programme or project, it is critical that at the design stages women's aspirations be considered as central to the design process. What women aspire to should be determined at this point. Many women do not articulate their aspirations. However, engaging with women in small groups and those who belong to the same socio-economic group will aide fruitful discussion.
Step 5. Details of support and service networks

Step 5 is about collating information and details of the support and service networks available to the location where the intervention is planned. This requires collecting information on major support and services including electricity, transport, credit, marketing and communications. Further, it is essential to have details of organisations who are involved in the agriculture sector (agriculture, livestock, fisheries and their locations as well as some understanding of the roles they perform). Organisations such as local government departments, research and training organisations, NGOs, financial institutions, traders can be grouped together.
Step 6.   Implications for programme design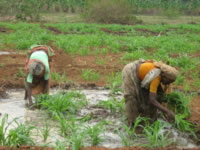 The final step of stage one is to conduct an overview of all the information that has been gathered and to make an initial analysis of the situation.  In the process, you could ask the following questions:
Stage 2: Identification and selection of interventions
On completion of collection of baseline information and the identification of potential starters, the second stage of the cafeteria is to identify and select interventions. This second stage involves conducting a feasibility study on the aspirations and activities identified in Stage 1. Stage 2 requires more specific interactions with women customers identified in stage 1 as well as with agencies/organisations who would be critical for the success of the initiatives as potential partners.
Step 7. Feasibility of women's aspirations that could be further explored for designing relevant interventions.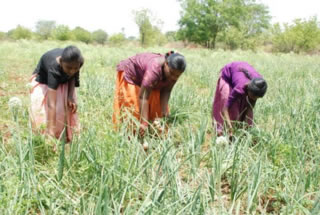 The activities/aspirations that women identified in Stage 1 and that they would like to take forward should be listed at this stage. This list is ought to be considered only as 'ideas for exploration'.
The next thing to do is to conduct a feasibility study by conducting an analysis of strengths and weaknesses of the activities. This analysis is done by conducting interviews with the same group of respondents who articulated these ideas and also with the agencies/organisations available in the area, which could potentially support these activities. These interviews provide information on the strengths and weaknesses of the different activities/aspirations identified and the kind of support that is required to turn them into real livelihood opportunities.
The results of the feasibility study highlight activities that have the most potential to be successful. These ought to be considered as 'best bets' to take forward to the next stage of the design process.
Step 8. Identification of intervention with back-up support (including microfinance services, credit availability and access; market demand and supply of goods and services, market network; knowledge based institutions and other service providers and value addition possibilities).
Most of the expertise required to meet the support requirements are available with different agencies and organisations as identified in Step 5.
This next step in the design process is to consider the best bets as identified in Step 7 and to conduct an analysis of the support and services needed. The success of new programme and projects rests on the strengths of the partnership that can be nurtured between organisations and the community. Therefore, it is critical to identify the types of roles and functions, organisations and agencies can offer to help turn an idea into a real opportunity.
Stage 3: Programme Design and Convergence
Step 9. Convergence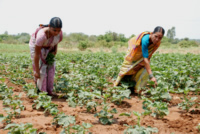 The final stage of the design process is to complete the identification of projects and/or programmes options with information on the back-up support. A local stakeholder workshop is conducted with potential partners and communities to share information and data and begin to think about project design and implementation. Conducting a stakeholder workshop is crucial to this process as it addresses the issue of convergence. Bringing organisations together in one forum will allow for the exchange of ideas and information. Creating this dialogue ensures that work on the ground in the villages with the communities is targeted and demand-led. The stakeholder workshop is also a crucial base where a network of positive stakeholders can be built up around each enterprise. Stakeholders are both individuals, communities and government/non-governmental organisations that can gain from the success of an initiative.  
Step 10. Institutional arrangements

Much of the success of new programmes and projects rests with how various partners work together throughout the project (from inception to implementation and evaluation). Each partner brings in complementary skills as identified in Stage 2 and also during the stakeholder workshop. These skills need to be properly articulated. Clarity regarding individual and collective responsibilities and sharing of costs, human resources and infrastructure is important and needs to be clarified at the beginning of the programme or project. Working in partnerships is not easy. There is no blueprint for generating optimal institutional arrangements and working in partnership. However, any new programme or project does need to indicate in detail the types of institutional arrangements that the project would be hoping to initiate. Project development workshops are a good starting place to help generate thinking on appropriate arrangements that would be best for:
Mobilising human resources and development of human/social capital (skills, knowledge)
Mobilising material resources and financial resources
Formulating business plans and strategies
Risk analysis and contingency planning
Monitoring and review system
On-line management support in particular for trouble shooting
Step 11. Social inclusion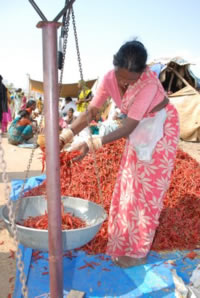 Social inclusion is ensuring that everyone feels that they are able to contribute and be involved in his or her local community. The involvment could be through direct or indirect channels in local community programmes and projects. In terms of programme design, it is important to understand both the nature and impact of social exclusion, by seeking to identify the power structures, institutions and political actors who maintain and encourage processes of discrimination and disadvantage. Conducting a social analysis or assessment of the programme or project being designed highlights issues ranging from landless rights to empowerment that could be taken into account in the final design. Conducting such an analysis/assessment leads to development that is more responsive, reaching the vulnerable and the poor. Besides, it ensures that the project objectives are acceptable to the intended beneficiaries and compensates for adverse social impacts on the vulnerable and the poor.
Step 12. Gender balance

Women are major contributors to society by the different roles they undertake; whether this is paid or unpaid work, their contribution to community and to their family home. However, their contribution is often overlooked or simply not recognised. The roles that women play and the contributions they make to society, the economy and to family livelihoods are different from men. In terms of programme design, it is important to recognise these different roles and the corresponding needs and perceptions. It is important to take into account the gender-based constraints that women face. Conducting gender analysis on the intervention that has the most the potential to be successful as identified under Step 7 is a vital step in the design process. This can be done by asking some very simple questions about how the identified programme impacts men and women.