STAGE 2

Identification and selection of interventions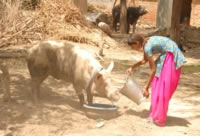 The second stage of the design process is to take stock of all the information collated under stage 1 and to conduct feasibility study of the aspirations and activities that rural women articulated.

Step 7: Feasibility of women's aspirations that could be further explored for designing relevant interventions

The activities listed in Table 10 are those that were articulated by rural women in Mawphlang (see Table 6 for the full list).

Table 10. Activities identified for further exploration
Location

Activities Identified for Exploration

Mawphlang,
East Khasi Hills District
Meghalay

Piggery: scaling it up in the backyard
Poultry: enhanced management practices
Agriculture/ Horticulture enhancement
Value addition to fruits (pear, plum, peach), pickle making and potatoes
Eco-tourism
In order to develop the ideas put forward in Table 10, interviews were held with the same group of respondents who articulated these ideas and also with the agencies available in the region, namely traders, finance providers, development departments, research organizations etc, which could potentially support these activities. This facilitated the analysis of the different activities (strengths and weaknesses) and the kind of support that would be required for the activities to be successful.

Table 11. Feasibility study of activities for Mawphlang
Activity

Strength

Weakness

Comments

Piggery: Scaling it up in the backyard

Ample demand locally
Proximity to Shillong
Women have skills to rear pigs

Sickness is a problem
Need technical inputs and training
Limited capacities in the community
Professional veterinary assistance is available from the block. However, it is not accessible for women who are looking for assistance locally

Need to create mechanisms for professional assistance in the villages
Need for more trainings on managements aspects

Poultry enhanced management practices

Ample demand
Skilled in rearing

Sickness poses problems. Sometimes entire stock is wiped out

Need to create mechanisms for professional assistance in the villages
Need for more trainings on managements aspects

Agriculture/ Horticulture productivity
enhancement

Known occupation
Scope for productivity improvements exists

High dependence by the people
Size of holdings are small
Mostly lease land farming
Credit and markets are not well developed. Traders, money lenders and middle men provide the services currently at their terms

Seed management/land management practices need to be improved
Fruit trees can be grown in/near the homesteads
Exposure visit to other hill states to convince farm women that better returns could be achieved through adoption of better technologies
Small greenhouses with local material constructed during winter months
Marketing and credit issues needs to be addressed
Substantial numbers of women are involved in agriculture.

Value addition activities:

Fruits (pear, plum , peach)
Pickle making
Potatoes

Local production
Local demand as well as demand from Shillong
Some people in adjoining blocks are already doing similar activities

Need for training, capital, quality control and market exposure.

Capacity building is necessary before starting this activity
Need integrated support (technical, financial and marketing) and hand-holding till the enterprises could stand alone
Scope exists, and it could be explored

Eco-tourism

Picturesque block, similar to Cherapunji and proximity to Shillong, which is a tourist hub
Sacred grove stretches for kilometres at the block

SHGs could be channelised to benefit from possible eco tourism
The ruling clans might not be responsive to the idea.

Scope exists, but need more exploration and perhaps a longer time frame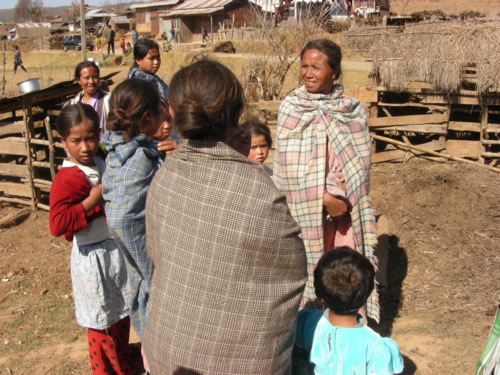 The feasibility study in Table 11 highlighted three activities that have the most potential to be successful. These 'best bets' were based on discussions with a number of groups including community groups, officials, traders, financial agencies. The three activities are:
Value addition of farm/forest produce,
Back-yard poultry and piggery,
Agriculture/horticulture enhancement
Step 8: Identification of intervention with back-up support (including microfinance services, credit availability and access; market demand and supply of goods and services, market network; knowledge based institutions and other service providers and value addition possibilities)

Organisation support is required to underpin the three activities identified in Step 7.

Table 12. Organisational support to underpin activities in Mawphlang

Programme: Mawphlang, Meghalaya

Support Services Needed

Support and service providers

Value Addition of farm/forest produce

Training in how to grade, packaging, quality control.
Maintaining standards, marketing back-up and tie-up

(There are a few individuals making juices from fruits and selling in the Shillong market.)

Training on value addition-Rural Resource and Training Centre.(R.R.T.C.). (The few individuals who have undertaken trainings initially from this institute are practising as well).

Capacity of government organisations and NGO to deal with these issues is very weak. There are few church sponsored organisations, which have started working recently on livelihood issues. People tend to trust them more than the other agencies.

Back Yard Poultry and Piggery

Majority of the households are rearing pigs and hens
Need training on scientific management practices and disease prevention
Need credit to buy piglings and feed

Government organisations (including veterinary departments) are not functional
Possibilities of training para vets needs to be explored

Agriculture/Horticulture Enhancement

Exposure visit to hill states to make the community believe that in winters something can be grown and sustained.
Input related training and information dissemination required.
Marketing tie-ups through SHGs need to be mobilised to take the benefit of economies of transportation. Defunct co-operatives existing in areas.



Agency for Sustainable Development – an NGO formed by the in the region is keen to take lead. However, would require funding and technical support.