The study revealed that women want to improve their standard of living and live a quality life. Those who could articulate their aspiration, talked about constructing a better house and providing better education to their children. Except for the few women who are constrained by caste, occupation and religious constraints, all of them want to improve their income by engaging in some of the activities/occupations, which they currently see as relevant.
Table 6. Activities identified by women which they would like to engage in to increase income
Activities identified by women as relevant

Percentage of women

Minjur Part,
Tamil Nadu

Gumma, Orissa

Mawphlang, Meghalaya

Agriculture/horticulture owned/leased land

3.97

3.35

46.34

Aquaculture

3.31

-

-

Business non-farm activity

52.98

28.63

26.83

Employment

-

0.74

3.25

Fisheries

1.32

-

-

Labour agriculture

-

-

0.81

Labour non-agriculture skilled

-

0.37

3.25

Livestock

10.60

1.49

17.07

None

7.95

7.43

0.81

NREGS

-

-

0.81

Others

21.19

76.58

26.02

Post-harvest activity

5.30

0.37

-

Rent on assets

3.97
Business non-farm includes grocery shops, small petty shops, cashew and NTFP business, tiffin centres, tea shops, goat business, tailoring shops, cloth shops, small contractors etc.


Livestock includes dairy, piggery, poultry and goatery


Labour non-agriculture skilled includes Artisanal, traditional and minor skills are barbers, carpenters, palm leaf weaving, drivers, mechanics etc


Agriculture/horticulture owned/leased activity includes purchase of additional lands, improvement of the existing practices, fencing, irrigation facilities etc


Aquaculture is promoting fish, prawn and shrimp culture either in own/leased lands


Employment refers those who aspire to be employed in public and private sectors


Fisheries in owned/shared crafts refer going for fish catching in owned /shared crafts


Labour in agriculture implies assured labour availability throughout the year within the village especially in Mawphlang Block of Meghalaya


NREGS refers to the rural employment guarantee programme implemented by the Government


Others include education, better housing, pension, health services, toilets etc


Post-harvest activity includes value addition to the farm/fish/forest produce


Rent on Assets include lending out vehicles on hire, rent on building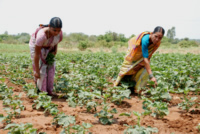 Though many women in all the locations are keen on starting some non-farm business activity, none of them was able to suggest the kind of support and services they require for doing the same, except credit. All believed that if they could get credit, they could engage successfully in these activities. This clearly reveals their lack of experience of setting up new activities and also the lack of awareness and knowledge about other kinds of services and support (technical training, entrepreneurial skills, market links etc).
IMPLICATIONS FOR DESIGN
Majority of rural women comprise women labourers and those involved in small livestock. Both these groups should be the primary target for programmes for rural women.

Women consider, crop farming important for improving their livelihoods only in Mawphalang . In Minjur and Gumma, land-based activities are not considered important by the women.

Non-farm activities, especially doing some business is considered by the communities as the main option for improving current incomes, especially in Minjur and to a considerable extent at Gumma and Mawphalang.

Most of the women specific programmes assume that more programs should be initiated for women in agriculture, considering their multiple involvements in agriculture. However, the communities everywhere do not consider farming as the best option to improve their incomes.

Programmes for rural women, therefore, should be willing to explore the scope and feasibility of other alternative livelihood options, which the women consider important.
For more details, click here