STAGE 1

Diagnosis (obtaining and analysing baseline information)

Step 1: Details of the study locations/village livelihood profile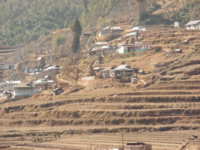 Mawphlang Block in East Khasi Hills district lies 25 km away from the state capital, Shillong. Though well connected by the approach road, this block is rural. Agriculture is the main occupation of the khasis, who inhabit this region (The khasis are the dominant tribe of Meghalaya). The hilly terrain and the land conditions of the sample area do not offer much scope in bringing additional area under wet condition. However, the state has a vast potential for developing horticulture. The agro-climatic variations offer much scope for cultivation of the temperate and tropical fruits and vegetables. Rice, maize, potato, cotton, orange, ginger, tezpata, areca nut, jute, mesta, banana and pineapple are the principal agricultural produce. Dependence on the forestlands is primarily for fuel-wood. Forestland belongs mostly to clans. Other households sometimes get usufruct rights. Timber, bamboo, reed, cane, ipecac medicinal herbs and plants, cinnamon, lemon grass and thatch grass are the principal forest produce.

All the villages surveyed are engaged in agriculture on their own or lease land. Agriculture is essentially for subsistence. Paddy and potato are the crops that are grown by majority of the respondents. Few are able to sell the produce (if any). Cultivation is mostly rain fed, except in a few low lying villages where local water bodies are also used. There is a high dependence on labour. Though many of the people are not willing to migrate for labour work, families in distress have to resort to labour work outside the village/block. Few industries can employ people for the whole year.


Not many people are aware of the government programmes/schemes. There is a need for proper dissemination of relevant information to the people regarding their rights and opportunities available under different government programmes. In Mawphlang block in Meghalaya, people seem to have no long-term plans. The reason could be attributed to their limited resources and lack of information. Hence, a general feeling of hopelessness has crept in where the only alternative seems to be the government grants/beneficiary schemes.

Being a hilly area (still backward in trade, commerce and industry), with four-fifths of its population in the rural areas, the necessity of proper road network is of utmost importance in the study location. The state is not served by railways and the river transportation is not feasible. Hence, roads are the only means of bulk transportation here.

Table 1. Land use pattern in Mawphlang block:
| | | |
| --- | --- | --- |
| Details | Area (ha) | Total (in %) |
| Agriculture-irrigated | 128 | 4.96 |
| Agriculture-rain fed | 1760 | 68.32 |
| Common lands (grazing, forests etc) | 682 | 26.47 |
| Water Bodies | 6 | 0.25 |
| Total Area | 2576 | 100 |
Mawphlang is dependent on rain fed agriculture. Land holdings are small (1.05 ha). Mawphlang is constrained by its topography; making it difficult for people to make livelihoods out of the lands that they have.
Table 2. Main features of village livelihood in Mawphlang block
Livelihood Sector

Livelihood Pattern

Agriculture

Subsistence farming on small landholdings
Mostly lease land cultivation
Rain-fed agriculture
Potato and vegetable cultivation in summer

Livestock

Small scale poultry and piggery

Forestry

Fuel-wood extraction

Fisheries

Negligible

Labour

High dependence on unskilled work-limestone quarries, charcoal units
Opportunities limited during winter months

Migration

People generally unwilling to migrate for labour work
Too many people depend on limited and declining natural resource base. There is high dependence on unskilled labour for generating an income and poultry and goatery are significant livestock activities here.

Step 2: Details of household livelihood profiles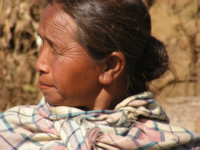 Agriculture being seasonal as well as only for consumption, the households depend on other sources of income to tide them over for rest of the year as well to meet their monetary demands. People who are engaged in the agriculture on leased land have the additional burden of repaying the lease amount despite crop failures. The landlords are usually people who get better opportunities, as they shift to urban or semi-urban areas and retain their lands in the villages to lease them to other people. The other sources of income are mainly unskilled labour work, petty businesses, business as contractors, small tailoring shops, pig rearing, and teashops. Very few are employed in the government sector. Food shortage is occasionally seen among households.

Table 3. Food security status
| | |
| --- | --- |
| Food in Households | Total % in Mawphlang Block |
| Food surplus | 6.77 |
| Just enough food | 30.17 |
| Food shortages occasionally | 61.32 |
| Chronic food shortage | 1.24 |
The main source of income comes from agriculture. The very high extent of dependence on agriculture reveals lack of other opportunities.

Table 4. Main source of income
| | |
| --- | --- |
| Main Source of Income | Percentage of Households |
| Agriculture/Horticulture | 89.44 |
| Business non-farm activities | 3.25 |
| Employment | 1.63 |
| Fisheries | - |
| From forest produce | - |
| Labour from agriculture | 4.88 |
| Labour (non-agri) unskilled | - |
| Labour skilled | - |
| Livestock | 0.81 |
| Others | - |
| Professional | - |
Step 3: Details of women's livelihood profiles


Most of the individual's demands are for the supply of credit. Mostly the women wish to avail benefit under government schemes, though some are reluctant to take loans as they have little or no capacity to repay. This is also an indicator of the level of poverty in this block. Many of the individuals do not know about the different support services. Many women aspire to set up non-farm business, which already exists in the same village without knowing the demand.

Table 5. Women's livelihood profile in Mawphlang
| | | |
| --- | --- | --- |
| Activities | Number | Total % * |
| Labourers | 2314 | 36.0 |
| Agriculture (owned/leased) | 1195 | 19.0 |
| Livestock | 1572 | 23.0 |
| Collection of forest products | 1413 | 20.0 |
| Post harvest activities | 0 | - |
| Other activities | 129 | 2.0 |
| Total women involved in different occupations | 6882 | 100 |
* Note:
1. Women engage in multiple activities, So, the same women engaged in two activities would be counted against each activity.
2. Percentage figures indicate the percentages to the total women engaged in different occupations and not the actual number of women or economically active women.
Most of the women are engaged as labourers followed by poultry and piggery livestock keeping. There is a clear lack of other initiatives and enterprises in this block.

Step 4: Details of women's aspirations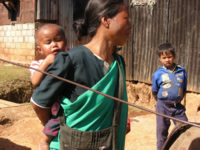 Women have multiple aspirations. The study revealed that all of them want to improve their standard of living and have a good quality of life. Those who could articulate their aspirations, talked about constructing a better house and providing better education to their children. Except a few women who are constrained by caste, occupation and religion, all of them want to improve their income by engaging in some of the activities/occupations, which they currently see as relevant.

Table 6. Aspirations identified by women to increase income
| | |
| --- | --- |
| Aspirations identified by women | Percentage of Women in Mawphlang Block |
| Agriculture/Horticulture Owned/Leased land | 46.34 |
| Aquaculture | - |
| Business non-farm activity | 26.83 |
| Employment | 3.25 |
| Fisheries | - |
| Labour Agriculture | 0.81 |
| Labour Non-Agriculture Skilled | 3.25 |
| Livestock | 17.07 |
| None | 0.81 |
| NREGS | 0.81 |
| Others | 26.02 |
| Post harvest activity | - |
| Rent on Assets | |
Business non-farm includes grocery shops, small petty shops, cashew and NTFP business, tiffin centres, teashops, goat business, tailoring shops, cloth shops, small contractors etc
Livestock includes dairy, piggery, poultry and goatery
Artisanal, traditional and minor skills are barbers, carpenters, palm leaf weaving, drivers, mechanics etc
Agriculture/horticulture owned/leased activity includes purchase of additional lands, improvement of the existing practices, fencing, irrigation facilities etc
Aquaculture is promoting fish, prawn and shrimp culture either in own/leased lands
Employment refers those who aspire to be employed in public and private sectors
Fisheries in owned/shared crafts refer going for fish catching in owned /shared crafts
Labour in agriculture implies assured labour availability throughout the year within the village
NREGS refers to the rural employment guarantee programme implemented by the Government
Others include education, better housing, pension, health services, toilets etc
Post harvest activity includes value addition to the farm/fish/forest produce
Rent on Assets include lending out vehicles on hire, rent on building ,
Though many women are keen on starting some non-farm business activity, none of them was able to suggest the kind of support and services they require for doing the same, except credit. All of them believe that if they could get credit, they could engage successfully in these activities. This clearly reveals their lack of experience of setting up new activities and the lack of awareness and knowledge about other kinds of services and support (technical training, entrepreneurial skills, market links etc) required to establish a business opportunity.
Step 5: Details of support and service networks

The final step of stage 1 was to collate information and details of the support and service networks available in Mawphlang Block. This information is presented in Tables 7, 8 and 9.

Table 7. Support and service network
Support and Services

Details

Electricity

Villages electrified
Electricity used for cooking

Communication

Well connected by mobile network;
Not much aware of Internet

Transport

Well connected by road

Credit

Presence of nationalized banks, but people lack awareness about availability and access to credit

Marketing

Markets not fully developed, farmers sell their produce as individuals
Lack of exposure to outside markets, other than Shillong
Language a major barrier for accessing outside markets

Capacity Building

Poor capacities at all levels (lack of information, exposure, vision and long term planning)
Interaction of the community with various government departments is mediated through headman and this constraint genuine participation.

Table 8. Location of individuals and organisations in Mawphlang (District East Khasi Hills), Meghalaya




Individual/Organisation

Contact details

I

Local Government Departments

Department of Agriculture, Animal Husbandry and Forestry

II

Research and training organisations (Government)

1.

State Council of Science, Technology and Environment.(S.C.ST.E.)

Lower Lachumiere, Shillong- 793001, Ph no : 2505511

2.

Rural Resource and Training Centre.(R.R.T.C.)

Nayabungalow – 793105
Ph no :03638- 2262314,2262303,2262302
Contact Persons:
Fr.Cyril Tirkey, Director-9863096281
Fr.Bernard Pala, Deputy Director-9863094848

3.

Agency for Sustainable Development Initiatives

K.J.P. Synod Sepng,
Mission Compound- 254622
Contact Person: Revd. A.T. Sohliya - Development Officer -986311598 Email – amsohliya@yahoo.co.in
kjpss@sancharnet.in

III

NGOs

Bosco Reach Out (B.R.O.)

Donbosco Technical School
Laitumkhrah, Shillong-3
Meghalaya.
Ph no (0364)-2226204, 2223095, 2223408.
Contact Person:
Mr.Thomas Mallai-Administrator
Ph no- 9863022704, 9863444231.
Email-broshillong@rediffmail.com

IV

Financial institutions

Meghalaya Rural Bank

Tyrsad, P.O. Tyrsad
Ph.no: 2006434

Meghalaya Rural Bank

Sohiong, P.O.: Sohiong
Ph.no.: 2268229

Meghalaya Rural Bank

Nongspung, P.O.: Nongspung
Ph.no: 2006323

Meghalaya Rural Bank

Mawlaingut, P.O.: Mawlaingut
Ph.no:2262233

Meghalaya Rural Bank

Mawngap, P.O.: Mawngap
Ph.no:2567341

Meghalaya Rural Bank

Nongthliew, P.O.: Nongthliew
Ph.no:2006433

Meghalaya Co-operative Apex Bank

Sohiong ,P..O: Sohiong
Ph.no:9436333346

State Bank of India

Mawngap, P.O.: Mawngap
Ph.no:2567614, 2567229

V

Traders/commission agents involved

1.

Mr.Mitchell Wankhar, Exporter and Importer
Fish merchant, coal suppliers, order suppliers, ice manufacturers etc

Shillong

2.

Bara Bazar(Iewduh), Fish Market

(0364)-2544316(shop),2500396 (residence)
Mobile:09436104984,09863021174, 09863068494
Shilllong

3.

Ms. S. Kharlyngdoh

Washingdoh, Shillong-1, Block-3
No.09856234722

4.

Mrs. P.Kharkongor

Mawpat, Shillong-12
09862204598

5.

Ms.Mawphlang for vegetables specially for ginger

Mawlai Nongkwar, Shillong, Block-6
Ph: 9863063523

6.

Mr.Nal Nongpluh for fertlisers and insecticides

Puria, Mawryngkneng. 09863103262


Table 9. Road distance to key facilities

| | | |
| --- | --- | --- |
| S.No. | Key Facilities | Average Distance in km from study villages |
| 1. | Bus stop | 2.33 |
| 2 | Telephone | 0.79 |
| 3 | Government doctor | 7.79 |
| 4 | Private doctor | 17.88 |
| 5 | Bank | 8.50 |
| 6 | Post office | 7.29 |
| 7 | Primary school | 0.21 |
| 8 | Secondary school | 5.63 |
| 9 | College | 33.67 |
| 10 | Internet | 39.63 |
| 11 | District Head Quarters | 39.63 |
| 12 | Block Head Quarters | 21.21 |

Step 6: Implications for Programme Design

On completion of the baseline data, the project team reviewed the information. The implications for programme design in Mawphlang are as follows:

Interventions to raise production and productivity in land-based activities (crop production, livestock, poultry and fisheries) is an option.
Agricultural labour households do not have round-the-year employment. So, enhancing their capability to use their labour productively in the lean seasons can improve their incomes.
Majority of the rural women comprises of women labourers and those who are involved in small livestock. Both these groups should be the primary target for programmes for rural women.